12+ Brilliant Ways To Save $5000-$20000 This Year Without Feeling Deprived
This post may contain affiliate links. Please read my disclaimer for more information
This list will outline brilliant ways to save money without feeling deprived. I believe it is smart to save, but, I do not believe you should feel deprived and miserable in the process.
Therefore,  instead of claiming to save by using a family cloth rather than toilet paper, we should primarily find ways to make more money and only save on the things that we need to save on while still being able to live a fulfilling lifestyle.
This post may contain affiliate links. Please read my disclaimer for more information.
This is why this post will outline some amazingly practical ways to save without feeling deprived.
Whether you want to save extra money for a big investment like a car, home or just for more simple things like holiday spending money or a special trip this year, you will find some great money saving tips for you in this post.
All the strategies below will not work for everyone.
I recommend that you go through the list, find a few money saving tips that work for you and apply them to your life. You will find that you're saving money like never before!
Brilliant ways to save money:
1. Write down a list before you go shopping…and stick to it.
Not having a shopping list when going out to shop for anything is a surefire way to blow your spending through the roof.
You fall into the trap of wanting..or feeling like you, the children, your husband, your pet needs everything that your eyes fall on.
Most of the time, those items end up packed and forgotten within a few short days. Having a simple 'to buy' list can help you save all this wasted money and only stick to things you and your family really need.
According to research from the University of Pennsylvania, shoppers who can make a grocery list and stick to it, thus avoiding impulse spending, can cut their grocery bill by 23%.
*Possible annual saving $2650.00
2. Make a budget.
This is by far one of the most important ways to save real money.
A few years before, I didn't understand or care to understand the concept of budgeting. Therefore, whatever monies we got, we spent. After all, isn't that the purpose of making money?
Recently, we have started budgeting our money each month, and this has saved us lots and lots of money. It has helped us to understand how wasteful we had become by taking everything for granted…and being broke at the end of each month.
I can't tell you how much this has helped. We now have a certain amount that can be spent on any given area of our lives and, even though we may not stick to it to the T (we are humans), we generally don't overspend.
This helps to bring structure into our lives and make us more and more responsible with our spending. As you begin this, you will fall off the wagon a bit, and it may be hard. The trick is to not give up. In a few months, you will be used to this and it will begin to feel very natural to you.
Some of those free printables are awesome and can keep you on track with your budget. Try them out!
3. Join a great cashback site
When shopping you can get the most out of your money by taking advantage of cash back websites to put extra cash back in your pockets.
I use, love and recommend befrugal.com. I shop online a lot and so I love to receive something back when I shop.  I've been using befrugal for almost a year and have been able to receive over $1000 cash back this year.  All I have to do is open up befrugal in my browser when I'm about to make an online purchase, find the store I want to search for and claim my cash back! It's super easy and you can receive your cash back via direct deposit, PayPal, check or Amazon gift card.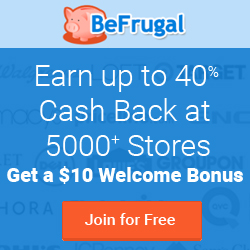 You can sign up for Befrugal for FREE by clicking this link!
4. Shop out of seasons.
I'm going to use an example here. It is a bad idea to shop for Christmas, around Christmas time. That's a sure way to pay the highest prices for goods. The tag may advertise a sale, but keep in mind that those prices have been hiked up before the 'presumed' sale price is even calculated.
This is a strategy practiced by almost all retailers.
The simple logic behind it is this. At Christmas time (or any other holiday), you need to get those presents for your loved ones because you've most likely put off buying presents until the very last moment.
Therefore, in most cases, the price is not an issue, especially for many holiday shoppers, shop super duper late. Retailers know all this and use those holidays to their advantage by hiking up prices, but advertising sales.
By shopping out of seasons, for presents, clothing, food and most other that you purchase, you're actually paying the best price for your goods.You're getting everything before it's been hiked up to the roof! So don't be tricked into Christmas sales around Christmas time. Generally, this is a promotions tactic to get you to the store to spend more money.
Naturally, this tip applies to all other holidays as well.
5. Invest in a crockpot.
This can seriously save you tons of money each month. Don't believe me?
If you use your crockpot to cook some healthy, hearty meals for dinner, then you will save tons of money by not eating out. The average meal eaten outside the home is around $8.00.
If you have a large family (and even though you don't) this can quickly add up to a hefty sum each month if you and your family eat out a lot.
By investing in a crock pot and having dinner at home each night or at least 60% of the time, you can save an average of $100 each month per person. Add this up for a year and you can save, thousands of dollars each year by getting a crockpot and preparing dinners for you and your family.


 Potential annual savings: $2000+
6. Eat out…but do so smarter.
Investing in a crockpot is an awesome way to save money on food. But, on those occasions when you do go out to eat with loved ones, do so in a smart way. Here are a few tips we practice when going out that helps us save money:
1.Go out to eat in a place that has sentimental value, rather than one that is upscale and popular.
2. Unless you've budgeted for it, try not to pick the most expensive dish on the menu. If you actually have the meal you enjoy the most, you will feel way better.
3. Buy coupons from Groupon and restaurants.com. They will help you to save tons of money on your meals.
4. Find specials or promotions: Before you go out to eat, always check up to see what specials or promotions certain restaurants are having. You can do so by researching online or by calling ahead and asking for information.
7. Eat at least 10 meals at home each week.
Get coupons to save on groceries you buy all the time!

According to BLS, the average household spends about $3008.00.00 eating out each year. If you constantly eat out each month and instead decide to start having breakfast and dinner at home every weekday, you will save yourself an average of $250.00 per month. You heard that right.
You can prepare simple breakfasts in under ten minutes each day and create some awesome crockpot recipes and easy casseroles for dinner.
You should still enjoy dining out, but reducing the number of times you do so will help you save tons of money.
Potential annual savings (if you dine out 50% less often): $1504.00
One of the main reasons we eat out a lot is due to the time, focus and energy it can take to create meal plans. If you feel like you won't be able to stick to a consistent meal planning schedule, I highly recommend trying out the $5 meal plan. It is a monthly subscription and it includes:
1. 5 dinner recipes
2. Breakfast and Lunch recipes
3. Tips to save when grocery shopping
4. Time-saving strategies when cooking and more…
8. Buy generic brands rather than brand names
When shopping, choose good quality generic brands as much as possible. Keep in mind that you do not want to compromise the quality of the products you use, so purchase wisely. According to CNN.money referencing economists from Tilburg University in the Netherlands,
….research estimates Americans are wasting about $44 billion a year on name brands, when they could be buying the exact same products if they switched to cheaper store brands.
*Potential annual savings: $5000+
9. Don't buy items advertising 'Sale' just because of the fact.
A few years ago, we would buy things that we didn't really need just because a sale or promotion was being advertised. This is not saving money. Consider this scenario.
…At a popular store, the original price of an item was $32.99, but, it's slashed in half today only so lucky shoppers can get it for $16. You don't need it, but you get it anyway because this is a saving opportunity that you can't pass up. The worse thing about this situation is that 80% of the time, you're not getting an actual sale.  The price of the product has always been $16. The smart retailer, however, understands various impulses that drive sales, therefore, he/she will say that the product was $32.99, so that you feel an emotional response and feel the need to buy this thing because you can't miss this deal.
One way to save tons of money is to avoid falling for those smart retail tactics. Always keep your wits about you when shopping and stick to what's on your list at all times. I know those deals can be tempting, but once you know what's really happening, you should not be so affected or drawn by it.
Ask yourself these questions before buying any sale items that you didn't write on your list o previously budget for.
Is this actually something I need?

If not me, does anyone in my family need it?

Am I going to be using this sale item in the foreseeable future?

Will this thing improve my life?
If you answer no to those questions, then don't purchase it.
10. Save Big on your cell phone bill!


When was the last time you checked your cell phone bill? If you're like most people, it's probably been a while. Check it out, you may find that there are many services that you keep paying for that you never use. Call your cell phone company and have those canceled and save some extra money.
Potential annual savings: $150
11. Save on tv!
Have a look at your TV channels. Which programs are you paying for and which ones do you or your family actually use? Make a note of those you/your family don't use and get rid of them to save some extra cash.
Potential annual savings: $75
12. For god's sakes get rid of those credit cards!
If you're in the habit of getting into trouble with credit cards, get rid of them or at least remove them from your immediate reach. Credit card spending accounts for lots of debts in most households. Start walking around with only one credit card. You will find that your credit card spending is greatly minimized and you save more money.
13. Buy a coffee maker

Having a coffee ever so often is fine. But, when you start to have coffee on the go every day or every weekend, this cost really starts to add up.
By getting a coffee maker and having homemade coffee more often you cut down this expense by more than half. You can get a great coffee maker at Amazon for less than $30.
*Potential annual savings: $300-$600
Those genius tips alone can help you save anywhere from $5000-$20,000+ each year. Imagine what you can do with extra cash like this! Let me know which of these brilliant ways to save money you'll be using.
I'd love to connect so let me know which tips you think will help you out!